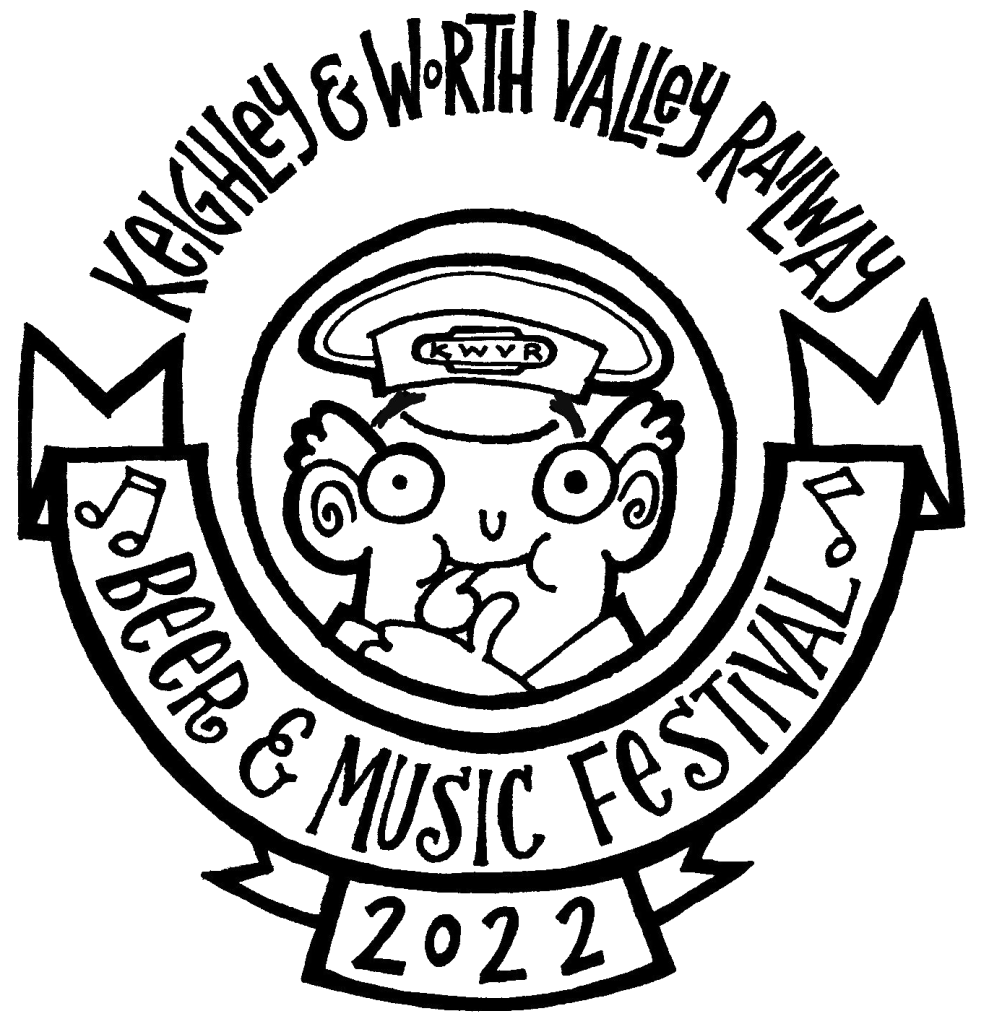 Beer & Music Festival 2022
From Thursday 13th October through to Sunday 16th October, the Keighley & Worth Valley Railway is transformed into a 5-mile long Beer & Music Festival.
Oxenhope Exihbition Shed
The main festival site is at Oxenhope Station in the Exhibition Hall, where there will be the main Festival bar with around 90 different cask-conditioned ales, both local and from all around the country. Alongside the main bar we are joined by 4 brewery bars, a 'Keg Wall' bar provided by Kirkstall Brewery from Leeds featuring a wide selection of their own craft keg beers, cask-conditioned ales from local brewers Bridgehouse and Goose Eye and from further afield a mix of cask-conditioned ales and craft keg beers provided by Brass Castle Brewery from Malton. We plan to have approximately 130 beers available at Oxenhope alone. However this Festival is not just for the beer drinkers out there, we have something for everyone. There will be a specialist Cider bar at Oxenhope stocking over 30 different ciders from all over the UK, including draught ciders on keg and some very drinkable fruit ciders. And we don't leave out wine or gin drinkers; there will be a wine & gin bar provided by Martinez Wines of Ilkley, selling a fine selection of their white, red and rose wines along with the odd bottle of prosecco and artisan gins!

Ingrow Station Yard
On Friday, Saturday & Sunday we will also have brewery bars at Ingrow, provided by Nomadic Beers from Leeds, Vocation Brewery from Hebden Bridge and local Keighley based Wishbone Brewery. We intend to have about 30 different beers available at Ingrow, both cask-conditioned ales and craft beers. There will also be a small selection of traditional and fruit ciders on offer as well as the lovely ladies from Gintopia with their extensive collection of (yes you've guessed it)……….Gin.
Keighley Station
Bingley Brewery will also be joining us at Beer and Music and a selection of their cask-conditioned ales will be available in 'The Old Parcels Office' café bar, located at Keighley Station.
The Flying Landlord & The Ossett Brewery Express
Most trains will have bars throughout the weekend. On Friday, Saturday and Sunday the Railway's Jubilee Bar Car will be conveyed on 'The Flying Landlord' train, stocking beers from local Keighley based Timothy Taylor's Brewery. The Railway's normal on-train real ale bar will be part of our second named train 'The Ossett Brewery Express', stocking beers from Ossett Brewery.
Live Music
There will be live music at both Oxenhope and Ingrow from Friday to Sunday, where approximately 30 groups and solo artists will perform with a wide range of genres, from pop and rock to jazz and country – there's sure to be something for everyone.
Food & Snacks
A selection of different food offerings will be available at Oxenhope and Ingrow. At Keighley snacks can be obtained from our kiosk on platform 4 during the daytime and more substantial fare will be available from our café bar 'The Old Parcels Office' located on the station bridge.

Tickets
Advance tickets (with a 10% discount for adult or concession tickets for a limited time)are now available. Only Event Weekend Rovers (valid for up to all 4-days) or Event Rover one-day tickets for Friday and Saturday are available for advance purchase. 
It will not be possible to purchase the following tickets in advance and they will only be available on the day of travel (on presentation of the relevant railcard or identity document where relevant):
One-day tickets for Thursday.
Discounted tickets for Heritage Railways Association (HRA) Pass Holders and working members of those railways with which KWVR have a reciprocal travel arrangement. 
Reduced price evening tickets or Admission Only tickets.